Carrie Mae Weems, Ain't Jokin series, 1987-1988
Carrie Mae Weems is one of my favorite artist (if not my favorite; I constantly go back & forth between Weems, Adrian Piper, Lorna Simpson, Glenn Ligon, and Gordon Parks, then rest happy that I never really have to choose). Weems' "Ain't Jokin'" series (1987-1988), has long been one of the most intriguing bodies of work for me. Broadly, I am interested in the pairing of photography and language, and Black artist uses of stereotypes. I like to think through the lines of where artist utilize stereotype, and/or are  consumed by stereotype. And further, how do we as viewers consume the work, particularly Black viewers as spectator and subject. 
In "Ain't Jokin," a series of portraits are paired with culturally explosive language. However, I would argue the explosion, that act of political incorrectness or confrontation of stereotype, is not found in the act of the pairing. Weems has not invented themes outside of the cultural imagination, but rather documented a specific cultural certainty in a rather easy aesthetic. "BLACK MAN HOLDING WATERMELON" and "BLACK WOMAN WITH CHICKEN" beg the reader/viewer to locate, what is wrong with these pictures? Whereas the inanimate objects, chicken and watermelon, should be simply food, the inclusion of Black subjectivity, blurs the line between the animate and inanimate—rendering neither Black woman nor Black man, and further chicken nor watermelon, the sole subject of the work. We are left meditating on the cultural significance of 'Black man holding watermelon' and 'Black woman with chicken.' What makes this seemingly simple portrait, culturally explosive?
The most chilling photographs in the collection are the two surrounding notions of Black identity and whiteness. Where the two meet, confront a hopes of coexistence, and ultimately destroy clear cut containments. A Black woman searching a mirror for validation, which would presumably hold her own reflection, reminds her of social standards of beauty. What is Weems' saying about the Black psyche? Where do notions of Black beauty go when consumed by the violent entrenchment of whiteness? Within the mirror we find a racially ambiguous woman, which we are led to believe is speaking, "snow white you black bitch, and don't you forget it." What is the possibility of this being a conversation between two Black women? Or a Black woman with a lighter skinned-self? A  white imago, despite a search for validation of beautiful Black self? Amidst this crisis self-determination and validation, a small boy struggles with identity in combating generational narratives of progress. Though she is not pictured, the mother of this child bears the brunt of the viewers consumption just as much as the child pictured. And this is the power of language paired with Weems' portraits. "WHEN ASKED WHAT HE WANTS TO BE…," comments on stereotypes surrounding the Black family, while harkening on the "absent/useless Black father" and the "Black matriarch" (pace Moynihan Report). With the abysmal circumstance of being born Black, what better option is there than to be white? What is brought to light by Weems is the process in which this cultural norm (the normativity of whiteness) is institutionalized. What is our response to this child? Where do we resonate and/or become repulsed by his mother? What sense do we make of his logic when put in conversation with the Black woman and her mirror?
And finally, set with the above mentioned photos are two portraits of perhaps what bell hooks' speaks of as 'oppositional gaze.' However, Weems' captions have every bit to do with the documentation of resistance within the photograph. 'White patty don't shine' despite being the 'finest of them all,' and our little Black girl is armed for battle to prove these ends.
The Black man on the porch, and the Black girl with boxing gloves sternly challenge the gaze of the camera, more than any of the other Black subjects captured in Weems' "Ain't Jokin'" series. Is this the place where we are to locate resistance, despite the possibility of consuming and being consumed by stereotype? This work is remarkable in its ability to conjure what we know, think we know, and don't want to know about Black people. And that is the scary thing, because perhaps that means we know far less than what we think. Which truly begs the question, "What are three things you can't give a Black person?"
Carrie Mae Weems, thank you, thank you, thank you. ashe. 
______________________________________________________________
—————————————————————————
WHAT ARE THREE THINGS YOU CAN'T GIVE A BLACK PERSON?
—————————————————————————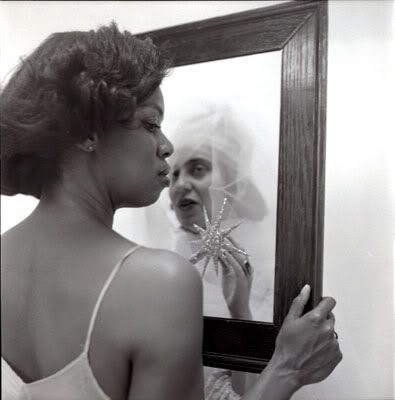 LOOKING INTO THE MIRROR, THE BLACK WOMAN ASKED, "MIRROR, MIRROR ON THE WALL, WHO'S THE FINEST OF THEM ALL?" THE MIRROR SAYS, "SNOW WHITE, YOU BLACK BITCH, AND DON'T YOU FORGET IT!!!"
—————————————————————————-
WHEN ASKED WHAT HE WANTS TO BE WHEN HE GROWS UP, THE BLACK BOY SAYS, "I WANT TO BE A WHITE MAN CAUSE MY MAMA SAY, 'A NIGGER AIN'T SHIT.'"
—————————————————————————-
BLACK MAN HOLDING WATERMELON
—————————————————————————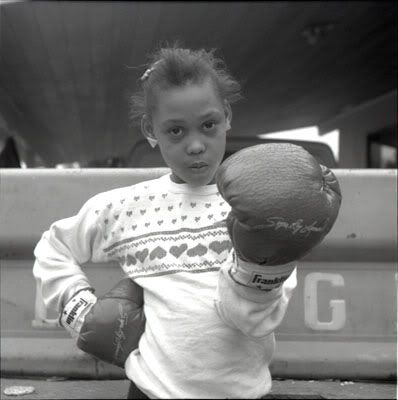 WHITE PATTY, WHITE PATTY, YOU DONT SHINE, MEET YOU AROUND THE CORNER AND BEAT YOUR BEHIND
—————————————————————————-
BLACK WOMAN WITH CHICKEN
—————————————————————————-